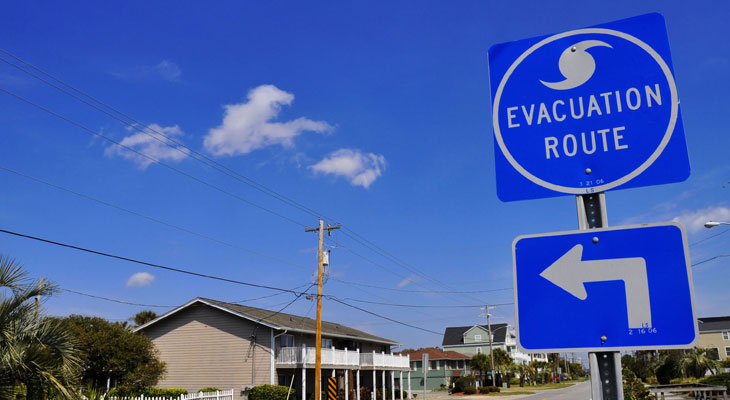 Hurricane Season and Preparedness
Flood is not covered on your Home Insurance. BUT FLOOD INSURANCE IS NOT EXPENSIVE!
The Coast is a wonderful place to live and visit, but we all know that coastal living carries some risks. Hurricane season is from June 1st through Nov. 30th each year. No one likes to think about the possibility of a major storm or flood affecting their home; however, it is of the utmost importance to be prepared. Please review the checklist below for important tips to take into consideration when planning for a hurricane emergency. Being prepared and having a plan in place before the storm arrives is the easiest and safest way to minimize hurricane damage.
Hurricane Watch: A hurricane watch is issued when there is a threat of hurricane conditions within 24-36 hours. When a hurricane watch is issued, stay tuned to television or radio for official bulletins of the hurricane's progress. If evacuation has not already been recommended or ordered, consider leaving early to avoid traffic. Remember that weather conditions will deteriorate quickly as the hurricane approaches.
Hurricane Warning: A hurricane warning is issued when hurricane conditions (winds of 74 miles per hour or greater, or dangerously high water and rough seas) are expected in 24 hours or less.
Preparedness
Contact your agent to make sure that your policy is current. Make sure that any changes have been made and that payments are up to date.
Take a personal inventory of your home. An easy website to assist you in recording your personal belongings is www.knowyourstuff.org.
Micro-chip your pet.
Trim all trees that are near or overhanging your home.
Gather personal hurricane supplies such as batteries, radio, flashlight, and water.
Check your windows and garage door to ensure that they are secure.
After The Storm
Return home only after an "all clear" is issued by authorities.
Avoid loose or dangling power lines and report them immediately to the power company, police or fire department.
Enter the home with caution.
Beware of snakes, insects, or animals driven to higher ground by flood water.
Open windows and doors to ventilate and dry home.
Check refrigerated foods for spoilage.
Do not drink the water. Eat only foods you are absolutely sure are safe.
Do not use candles for lighting.
Be extremely careful when using generators. Read owner's manual and adhere to all safety precautions.
Be extremely careful when using chainsaws. Read owner's manual and adhere to all safety precautions.
Use 911 for emergencies only. Remember that fire, rescue and police crews will be overwhelmed with the recovery effort.
Do not burn any debris until permission is granted to do so by proper authorities.
Call your Insurance Company to file a claim if your home was damaged.
Listen to local radio stations for official disaster reports.
Remember: INTERSECTIONS WITH MALFUNCTIONING STOPLIGHTS MUST BE TREATED AS A FOUR-WAY STOP.
Drive only if absolutely necessary and avoid flooded roads and washed out bridges.
Take reasonable steps to protect your home and property from further damage by doing temporary repairs.
Do not contract for any permanent repairs until an adjuster has inspected the damage.
If you relocate from your address or change your contact phone numbers notify your agent and your adjuster.
Take photographs of the damage.
Keep all receipts and invoices.
Use only licensed and insured contractors who are properly registered with the local Building Authority, and obtain itemized repair estimates
Be Safe, Be Prepared and please let us know if you have any questions.
A great source for material is http://www.nhc.noaa.gov/prepare/ready.php